This Continuity of Operations Planning (COOP) training package will help ensure that critical services, organizational functions, and programs remain operational or are restored as soon as possible after a disaster or emergent event. Utilize these tools to help your organization create or update your Continuity of Operations Plan. These materials are geared toward Community-based Human Service Organizations, and specifically those who serve children.
Training materials in the RCRC Toolbox include:
Plan Template – This COOP plan template, supplemented by the tools below, is a fully customizable to adapt to your organization's needs.
COOP Presentation Template – This fully developed training can be customized for delivery to your organization or agency.
COOP Facilitator's Guide – The facilitators guide provides speaker notes to help you deliver this training on your own or understand the planning process for yourself.
How to Guide –  The "how-to" guide provides the framework for a process to organize and manage a steering committee to develop a COOP.
Essential Functions Worksheet – This worksheet will assist you in helping to identify your organizations essential functions, a critical step in the COOP process.
Essential Functions Table – This tool will assist you in collecting all your essential functions in a single spreadsheet.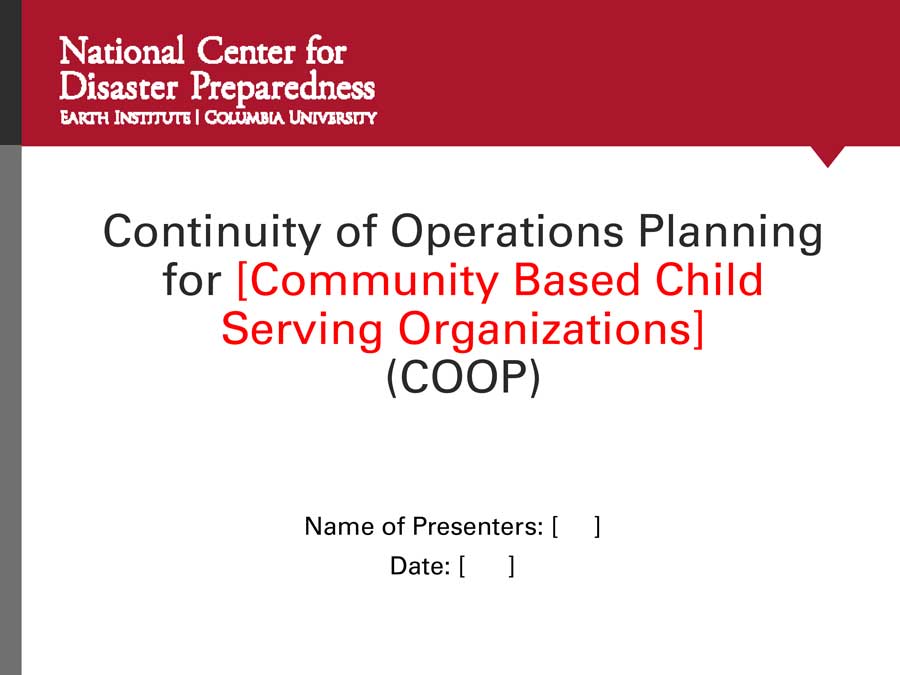 Resource Tool:
Title: Continuity of Operations Plan (COOP) Training Presentation, Guide, & Plan Templates
Type: Template
Created By: RCRC Initiative
Date: 11/2019
Access:
Click on the link to access this tool.